Interior designer with 360° perspective

What makes a home feel homely? I met Heli Virtanen, interior designer and founder of Iloa360. She described the art of creating that special "comfy, homely feeling", and how important this is. People can have different views on this, but the vital aspect is that everyone can enjoy their homes, since we now spend more time at home than ever before.
So how do you help people make the most of their homes, and get that special, cosy feeling? Heli describes how she starts each new project by meeting the home's occupants. She gets a sense of who they are, what they like doing, and what makes them tick. "The people living in the home are my greatest source of inspiration," she says, as they're the key elements of that particular home. "My job is to understand how they want their home to look, but also to challenge them," she says. Heli describes how she uses her own ideas to surprise, and even shock her clients to break down norms and preconceptions. "The reason for working with an interior designer is to get inspiration and new ideas." She combines a little wildness with the characteristics defining the people who live in the home, to get a good mix as a starting point for the interior design.
"It doesn't really even feel like a bathroom, but like a calm and beautiful salon"
- Anu Kulta-Haapalainen and Pasi Haapalainen
Besides the people themselves, where does this inspiration come from? Often from external sources, from nature, and currently mostly from social media, as a source of constant inspiration, to keep up with the latest trends. Heli describes how she gets her inspiration from public spaces and venues, and brings some of these elements into the homes she designs. She prefers to combine the public with the personal. "Restaurants and hotels are places that give me a lot of new ideas and creative inspiration," she says. For one of her latest projects, Isokoskelo, a one-storey house in Finland, she used soft tones from nature for the home's colour scheme. "The more colourful, daring elements were used for the details, the art and the textiles," Heli explains. Here, she can push the boundaries without sacrificing a sense of peace and calmness in the home.
So what defines the Isokoskelo project? "Built to last," Heli says without any hesitation. "Isokoskelo is built to stand for a long time. It's a project permeated by sustainability and durability, right down to the smallest detail." What does this mean to her? For Heli, it's less relevant to keep up with the latest trends, and more important to focus on the people who will live in the house. She combines their style with materials and colour schemes that will stand the test of time. Her own projects are dominated by materials like wood and ceramic tiles. This may be why she particularly enjoys designing bathrooms. Isokoskelo has a bathroom, and attached sauna, with a fantastic atmosphere. "I wanted to create a sense of luxury by combining darker tones, wood, and durable products."
What will we see in the bathrooms of the future?
Your bathroom is where you both start and end your day, and a place where you can relax and enjoy some time alone. Heli predicts that bathrooms will still be a key space dedicated to relaxation, so that spa-like bathrooms will continue to be popular. She can also note an increasing urge to make bathrooms more personal. "I see a greater need to display art and add other fine details to bathrooms, to give this special room a more personal touch." This may be just what is needed to achieve the right "homely atmosphere".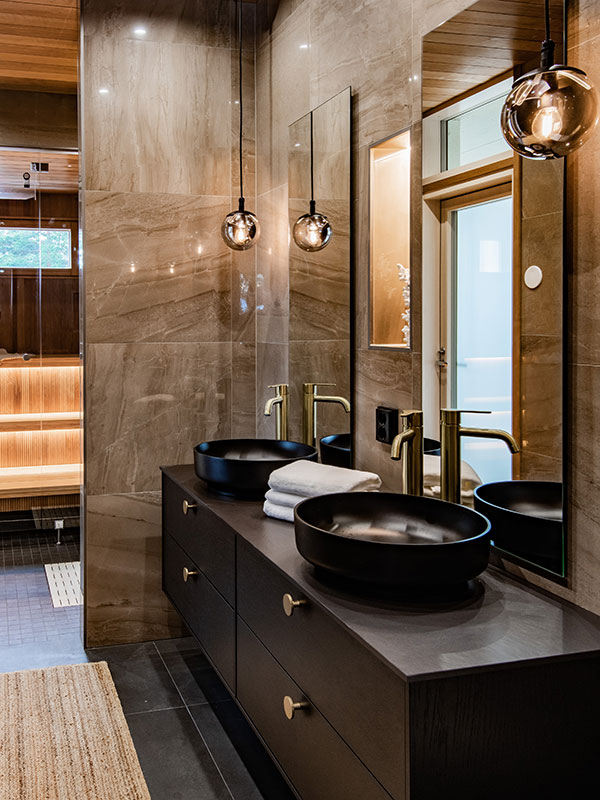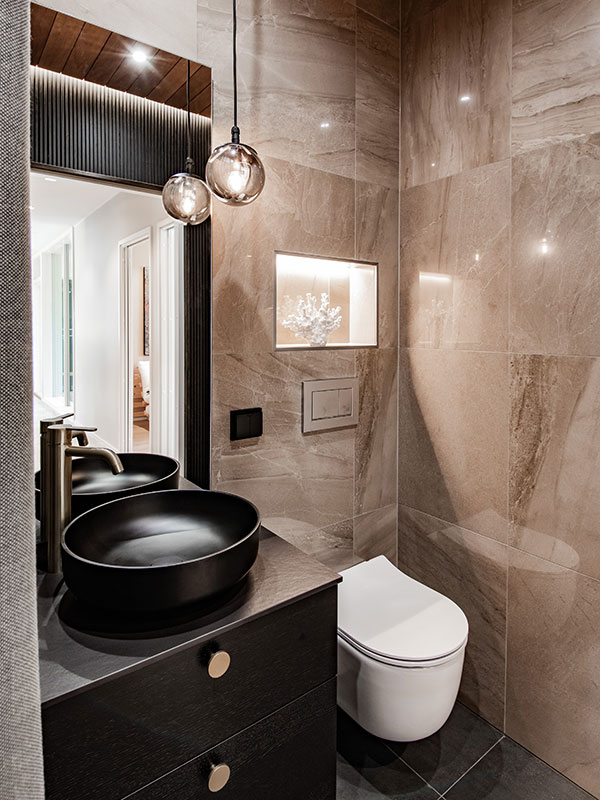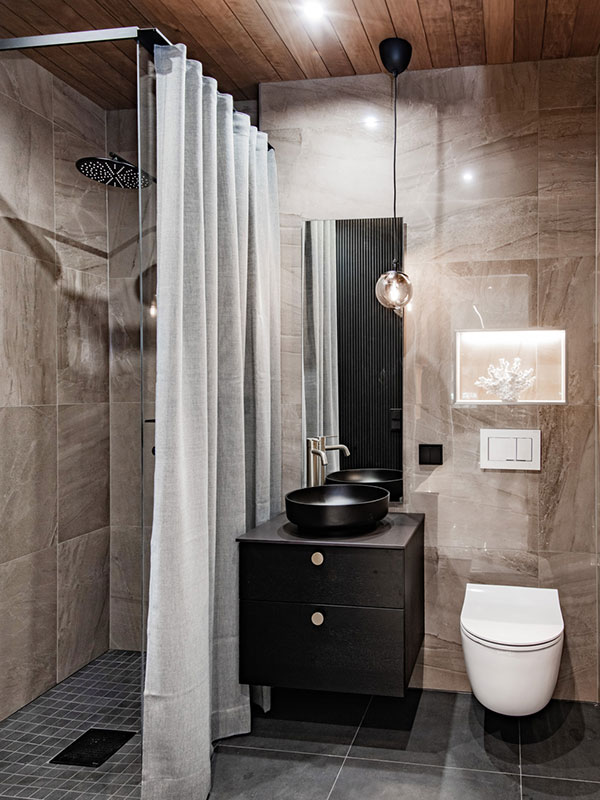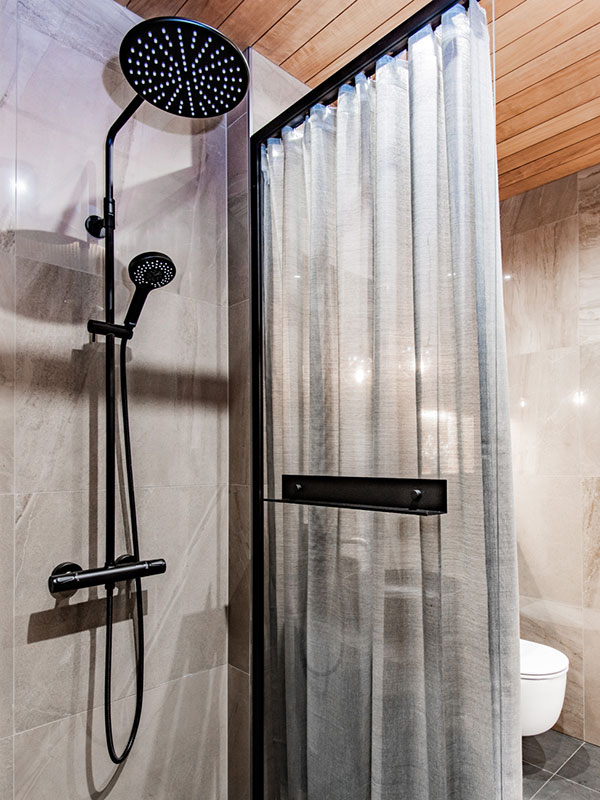 "I wanted to create a sense of luxury by combining darker tones, wood, and durable products".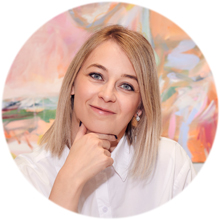 Heli Virtanen